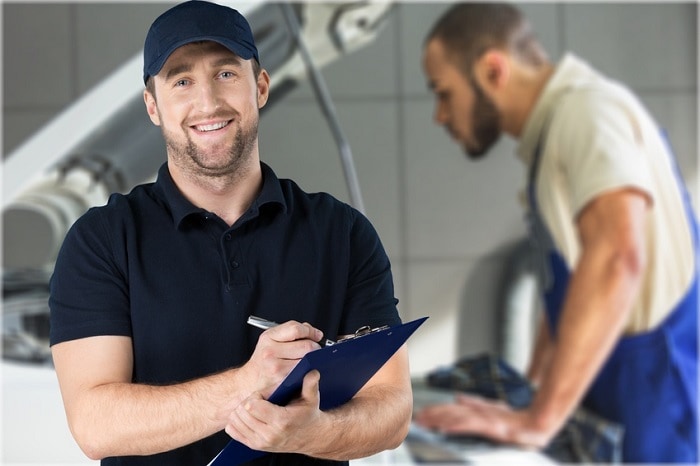 With spring on the horizon, it's time to shake off those wintertime automotive doldrums and head to Strathmore Ford to prep your vehicle for the change of seasons. If your Ford Fusion or Ford Escape near Calgary, AB is overdue for a tire rotation, oil change, or general diagnostics, our local ford dealership can help.
Whether you need new brakes, a new transmission, or a new battery, our talented service team does it all. Our Service department is open six days a week: M - F from 7am - 6pm and Saturday from 8am - 4pm. If you'd like to stay in our customer lounge while your automobile is serviced, we offer lots of amenities: free WiFi, satellite TV, coffee, snacks, comfortable seating, and more. On the other hand, if you have a lot on your plate and prefer not to stick around, take advantage of our Drop 'N Go program. Just drop off your vehicle for any paid maintenance or repair work and take a loaner vehicle for the day. Whichever route you choose, our nearby Ford dealers make Ford service near Calgary, AB easy, affordable, and hassle-free.
Along with maintenance-specific needs like tire rotations and oil changes (the latter of which is vital to your engine's performance), another great way to prep for springtime is via one of our value-laden detailing packages. Our "Standard" package includes a thorough exterior wash/dry, interior vacuum, inside/outside window cleaning, and touching up the dash and cup holders. And if you really want your car looking good this spring, go with our "Extreme" package, which includes all of the above plus interior shampoo, engine shampoo, interior deodorizing, deep vinyl reconditioning, and much more.
After a long winter, your car deserves the best – and that's just what our local Ford dealer delivers!